Normally demand for real estate in Arizona tends to rise during our "winter months" when more people "seasonally" flock to Arizona for our mild winter weather – which can commonly result in higher prices if supply cannot keep up (simple supply and demand). But 2020 has been anything but normal and as a result, we are seeing record low levels of inventory of homes for sale – including in the luxury real estate market.

As recently reported in the WSJ, demand for new homes is far outweighing supply – especially in highly desirable markets like Arizona. While I continue to meet new buyers fleeing states like California, New York, New Jersey, Oregon and Washington, I continue to see a shrinking pool of good luxury properties for sale in the greater Paradise Valley, Arcadia, and Scottsdale areas. Normally, we don't see this many new buyers relative to a lower summer supply but as we all know, 2020 has been anything but normal. But if you are already a homeowner in Arizona, this seems to be working in your favor…
Along with the record low inventories in Arizona has been nation-leading annual home price growth. July's latest CoreLogic Home Price Index shows a 9.1% increase in annual price growth making Phoenix currently the hottest real estate market based on home price appreciation. Phoenix single-family home renters are also leading the nation in YOY rent growth with a 4.7% increase in July, for the 20th consecutive month.
So many might ask how long will this continue? Here is what I know:
Mortgage interest rates are at record lows and based on comments out of the Fed, could stay that way for years to come.
Some people have indicated that they would prefer selling and buying a home after a vaccine for COVD-19 is found. Will that be later this year? Next spring? Time will tell…
Some homeowners may be holding off due to recent economic conditions that could negatively impact their ability to qualify for a new home mortgage. However, the luxury market may see little impact from this in Arizona.
Many good home builders and contractors are currently in high demand meaning the time and cost associated with getting a home ready to sell or build continues to rise.
Arizona is seeing around 75,000+ new people coming into the state each year from other states and for reasons that don't seem to be going away anytime soon making Arizona the second fastest growing state in the nation. This means demand based on total number of new buyers alone could remain strong for quite a while.
For these reasons and many more, it is hard not to see why Arizona's real estate market leads the nation and why that trend could continue in the months and years ahead. And as many of these new buyers along with the annual migration of "snow birds" flock back to Arizona for the winter months, it will be interesting to see if new supply can try to keep up with this strong demand. If it can't, then further home appreciation and prices increases could likely follow us well into 2021.
NEW SCOTTSDALE RESTAURANT OPENS THAT YOU SHOULD ADD TO YOUR LIST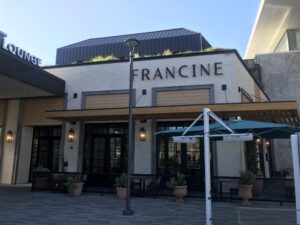 There is an exciting new restaurant open right outside the luxury wing entrance of the Scottsdale Fashion Square Mall called FRANCINE that you will want to add to your restaurant list. Francine offers a French Mediterranean cuisine with a heavy emphasis towards seafood lovers – and make sure to try their Branzino! The quality of the food is exceptional, and the atmosphere is truly beautiful and unique to Scottsdale. They have indoor and outdoor seating but make sure to get a reservation is advance – this restaurant has quickly become the talk of the town and 2+ hour waits are not unusual on busy weekend nights. For more on Francine visit: https://francinerestaurant.com/
IF YOU LIKE THIS NEWSLETTER, PLEASE FORWARD IT ON SO YOUR NEIGHBORS CAN SIGNUP FOR FUTURE MONTHLY UPDATES FROM COOPER'S CORNER BELOW…