Zinque, Maple & Ash, NOBU, etc…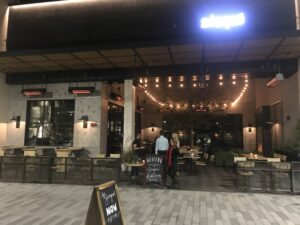 Happy New Year to all my friends and if you are recently returning to the valley for the winter, you have probably noticed a lot of changes recently in Old Town. Some of the more notable changes include the addition of some new restaurants that are now on my list. Maple & Ash, Toca Madera, and others are all worth a look and come January 27th, you can add the long-anticipated NOBU to that list as well. But there is one new restaurant that we recently discovered that you should definitely check out…
Zinque (pronounced Zin-Kae) is a new French Bistro located at the new luxury entrance of the Scottsdale Fashion Square Mall and based on our recent dinner there, we were very pleasantly surprised. Like most new restaurants in the valley, they have some service issues to work out, but we have come to expect that with new openings. Service can always get better but good food and atmosphere is either something you get right the first time or you don't and Zinque got it right for us.
The first "service" issue they need to correct was the unusually small type on the menu – which would be a struggle for any person to read in this dimly-lit restaurant. So, make sure to bring your readers and/or somebody with bionic vision. You can also check-out their menu online at: https://www.lezinque.com/menus as well.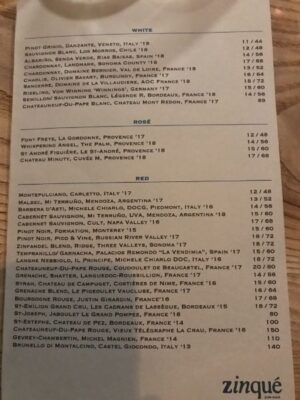 Once we got past the menu that would make even young eyes feel old, we fell in love with the food! My husband had the Steak-Frites which he said was the best he has had since New York. I had the Le Bowl which is one of their signature dishes and was remarkable as well. These two great dishes followed a great Caprese salad which we both shared and agreed rivals any good Caprese we have had in the valley. Their extensive lunch menu also includes fantastic sandwiches as well which we will soon explore further.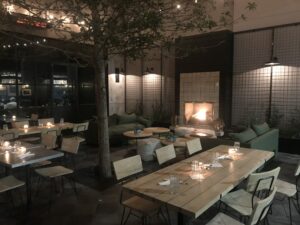 This is Zinque's first restaurant outside of California and we think will be a hit in Scottsdale. Seating includes inside and outside seating with a nice outdoor fireplace and surrounding couches that would be perfect for happy hour drinks. Speaking of drinks, Zinque also has a good mid-range priced wine list of mostly French wines, which is what you would expect at a French Bistro. Unless you really know your French wines, don't be afraid to ask Travis, who is the bar manager, to taste a few before you decide on your favorite pour.
Depending on what you order, this is a mid-range priced restaurant as well so it will provide a good "alternative" to many of the high-priced restaurants in the area. The atmosphere is nice but not formal so you could also feel comfortable here in almost any attire – especially while seated outside.
So, if you are one of those people who like to eat at a high-quality French bistro at more affordable prices, Zinque could be a great option for you and worth a try. Once you look past the familiar ramp-up of the new staff, you will likely love the food and want to come back again. Hope to see you there soon – we just moved Zinque towards the top of our favorites list!
IF YOU LIKE THIS NEWSLETTER, PLEASE FORWARD IT ON SO YOUR NEIGHBORS CAN SIGNUP FOR FUTURE MONTHLY UPDATES FROM COOPER'S CORNER BELOW…