There is one question I seem to get on a regular basis since the end of the COVID shutdown in Arizona and it is "What is condition of the real estate market?"
After being shutdown for nearly two months, Arizona's luxury real estate market seems to be rebounding rather quickly. Despite COVID, there is still a relatively short supply of good properties for sale in the Paradise Valley, Arcadia, and Scottsdale areas. So, when a good property comes onto the market, it seems to get offers rather quickly. Recent open houses have also been unusually busy with a lot of potential buyers indicating they plan to buy in the area within the year.
There are also some additional reasons why the Arizona luxury real estate market could be headed for a quick rebound:
Scottsdale Arizona was recently ranked by Forbes as the #1 city to live out the recent COVID quarantine. Not only does this speak well of our city, but for those people who fear a possible second wave of COVID-19 during the winter months of 20/21, Scottsdale could provide a much better living option moving forward – especially for people living in states like New York, New Jersey, Illinois, Colorado and California.
Mortgage interest rates are still at record low levels and many people anticipate them to drop even lower. Some new builds are also reporting interest rates as low as 3%.
As I have previously written, Arizona is currently the #2 fastest growing state in the US. With our attractive combination of great weather, low taxes, low cost of living, and growing economy, we can only expect more people to want to join our community from across the nation. Add to that all the new California license plates you can see during the recent COVID shutdown so don't be surprised if even more people who recently came here to escape their state end up staying.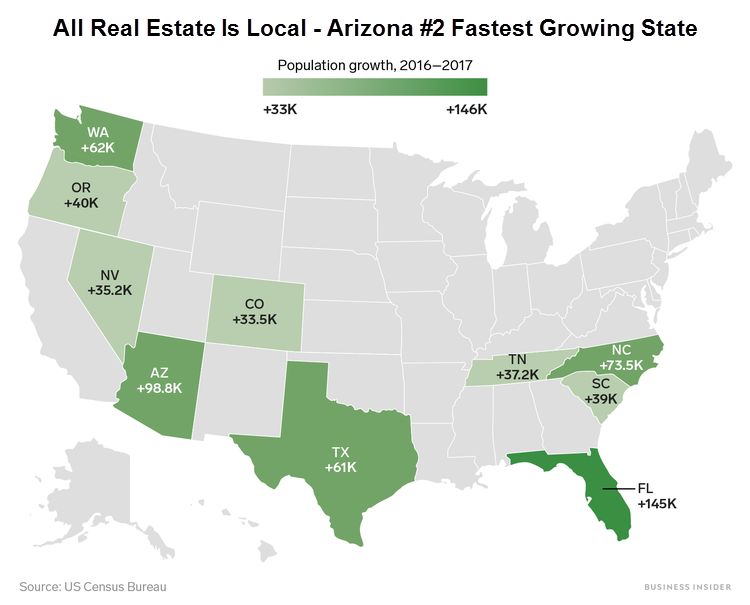 All of this seems to indicate increasing levels of demand in a market that continues to struggle at times with providing a good number of quality supply of homes to choose from – especially in the Paradise Valley and Arcadia areas. So, don't be surprised while listening to all the economic doom and gloom from the national news media if you see continued growth in the Arizona luxury real estate market in the months and years ahead. As always, all real estate is local, and it is good time to be local here in Arizona.
IF YOU LIKE THIS NEWSLETTER, PLEASE FORWARD IT ON SO YOUR NEIGHBORS CAN SIGNUP FOR FUTURE MONTHLY UPDATES FROM COOPER'S CORNER BELOW…