The real estate market in Paradise Valley continues to set record levels based on price-per-square-foot reaching nearly $700 per square foot. Continued pressures from record levels of inflation and supply chain shortages have led to high demand, limited building supplies and services, and limited supply on inventory – especially for modern updated homes in the area. Mortgage rates continue to rapidly rise while the US stock market has been rattled losing over $7 Trillion in value since the beginning of the year. Current inventory of homes for sale in PV has increased slightly in May to 110 homes. Quality, newer, modernized, and move-in ready homes still command top-dollar in today's luxury market in Paradise Valley.
CURRENT PRICE PER SQUARE FOOT SOLD: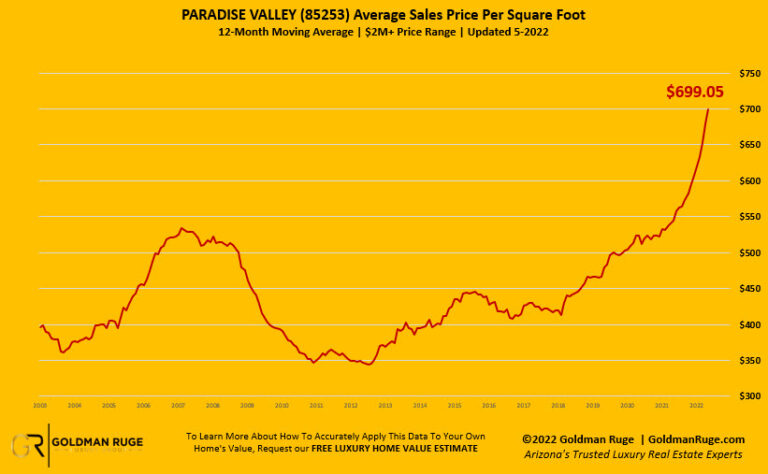 Paradise Valley Housing Pricinf Report May 2022
A number of factors beyond price-per-square-foot sold go into determining the true value of your Paradise Valley home. If you would like a more accurate estimate of your home value, contact us today for a FREE value estimate (click here).
CURRENT MARKET CONDITIONS (BUYERS VS SELLER'S MARKET):
When selling your home, it is important to consider the overall nature of the market and if it is a BUYERS MARKET, a SELLERS MARKET, or somewhere in between. These two market conditions generally mean the following:
BUYERS MARKET: Supply exceeds demand, home pricing decline, homes take longer to sell, more homes are for sale, and price reductions and lower offer prices are more common. Buyer's markets typically see supply of homes for sale at or above 7 months.
SELLER'S MARKET: Demands exceeds supply, home prices increase, homes sell quicker, fewer homes are for sale, and good homes can result in "bidding wars." Seller's markets typically see supply of homes for sale at or below 5 months.
HOW WE CAN HELP YOU…
The Goldman Ruge Luxury Group provides luxury property owners, buyers, and sellers in Arizona with the highest level of service and support when dealing with one of the largest personal financial decisions our clients will make in Arizona. Our clients depend on us as their trusted advisors for all aspects associated with their luxury properties both including and beyond the home buying and selling processes by helping them protect and maximizing the asset value of their luxury properties. We primarily focus on luxury property sales in the Paradise Valley, Arcadia, Scottsdale, and Phoenix areas.
LET US HELP YOU…
FIND OUT WHAT YOUR LUXURY HOME IS CURRENT WORTH
RECEIVE A FREE COPY OF OUR PRE-LISTING GUIDE
SELL YOUR HOUSE QUICKLY AND FOR TOP DOLLAR
FIND YOUR LUXURY DREAM HOME IN ARIZONA NOW
IF YOU LIKE THIS NEWSLETTER, PLEASE FORWARD IT ON SO YOUR NEIGHBORS CAN SIGNUP FOR FUTURE MONTHLY UPDATES FROM COOPER'S CORNER BELOW…